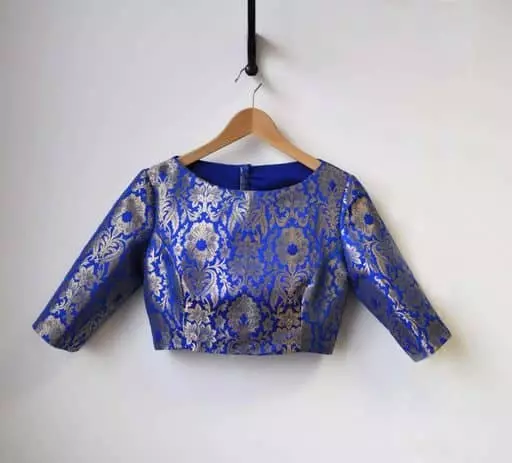 Top 10 Best Tailors For Women In Delhi-NCR
If you need to buy a pre-made tailor designer lehenga or padded blouse to have it customized, you may be concerned that the fabric will be ruined during the customization process with locally located tailors. As a consequence, customised tailors are often called upon to give aid in such situations as these. If you want to "imitate the sense of style displayed by your favourite public figure," you can meet with these tailors weeks ahead of time or on the last day to ensure that your dress is made to your specifications. The following is a list of the top 10 best tailors for women in Delhi-NCR and the National Capital Region (NCR), who can cater to any and all of your tailoring requirements.
This well-known store offers a large selection of Indian clothing, and it is well-known for its selection. Even if they are quite pricey, their long track record of effectiveness does not detract from their overall value. Additionally, they have a fabric department where you may purchase the materials you'll need to make your own custom designs from the ground up.
Location – Lajpat Nagar
Address – 26, Central Market, Lajpat Nagar, Delhi
Despite the fact that Rachna is well-known for a broad variety of Indian garment designs, her lehengas and suits are particularly noteworthy. Her reference materials include not just the material she gets from customers but also a collection of swatches she has collected over the years. She bases her suggestions for what would look good on your body and style type on her own professional and personal experience, so you can put your trust in her opinion completely.
Location – Anand Lok             
Address – Home studio in Anand Lok, Delhi
Women's custom tailoring tailor Grover Tailors is located in Khan Market, next to Gopal Mandir in Delhi. Grover Tailors has been in business for many years. Over the course of more than three decades, Grover Tailors has built a solid reputation for quality work. This company's reputation as one of the city's most prominent tailoring shops in the industry has been earned because of its superior ladies' tailoring services. During their time there, they have put their tailoring abilities to work for some employees in the White House USA, where they have been in business since 1962, when they became the first bespoke tailors. It includes everything from women's blazers to formal outfits, and it includes every kind of tailoring. Over the course of four decades, they have amassed a loyal fanbase, earning them a spot on our list of the best women's tailors in Delhi.
Location – Khan Market
Address – 47-A, Khan Market, Near Gopal Mandir, New Delhi
What if you've been invited to a wedding? Is it true that you've been asked? Could it be that this is something you're hearing? Not having the time or means to have your blouse tailored to match your sari is a problem. The search is over. There's no need to look any more. Eves Tailors is a good option and is a highly recommended destination for those who want to look their very best at a party with a blouse. It has clientele not only from Delhi but also from other places, who can attest to the high quality of the items that are sold by this firm, which specialises in selling the most flattering lehengas and blouses. It has been stated on the street that they are able to get a perfect fit in the first round and that it is not necessary to go through the trial procedure several times.
Location – Greater Kailash-1        
Address – M-57, Second Floor, GK1, New Delhi
Sarees and suits, as well as other Indian clothes, are among the items available for purchase at this venue, which is well-known for them. A one-of-a-kind skill to conceptualise and design handcrafted blouses that are one-of-a-kind. It is frequently the case that they do things correctly the first time as a consequence of their years of experience and learning.
Location – New Friends Colony   
Address – Home studio in New Friends Colony, New Delhi.
They've been in business for more than a century, and their stellar reputation is well-deserved because of their achievements. It's difficult to find a more precise fit for Indian women's clothing anywhere else. The service has received positive feedback from a significant number of fashionistas, who say that they are the only tailors in Delhi who are able to get the fit absolutely perfect the first time.
Location – Connaught Place
Address – Stall 42, Shankar Market, Connaught Circus, New Delhi
All of the wedding-related items you'll need may be stitched at Roshan Tailors, which is situated in the Greater Kailash location of New Delhi. Fashion products from renowned designers such as designer blouses, suits, sarees, shirts, lehengas, and other Indian apparel items are included. Your clothes will stand out from the rest as a result of their outstanding work, which includes embroidery and faultless sewing. It is because of their accomplishments that our list of the most outstanding female tailors in Delhi has been established.
Location – Greater Kailash-1
Address – M-25, Basement, Greater Kailash 1, M Block, Delhi.
It is the specialisation of designers that create costumes that are both aesthetically attractive and comfortable to wear. What distinguishes them from their competitors is their ability to supply consumers with high-quality services in a timely manner. Their meticulous attention to detail has allowed them to continue to serve solely female clients since the company's founding in 2003.
Location – West Punjabi Bagh
Address – Shop no. 3/83, West Punjabi Bagh, New Delhi
Elegant bridal lehengas and elaborately embroidered kurtis are among the many products that this firm is known for. Located in the city of Delhi, the Tohfe Wala Gumbad is a mosque. Shubahini Singh, who sells exquisite bridal lehengas and other ethnic clothing in front of the building, is a well-known local vendor. Seductive wedding lehengas, Anarkali skirts with embroidery, embroidered kurtis and other ethnic wear are some of his talents, among other things. Shubhangini Singh is the owner and operator of a clothing store in Delhi's central business area, which she opened in 2007.
Location – Shapur Jat
Address – HOUSE NO – 4 D ground floor shapur jat new delhi 110049
Online tailoring service provider Tailor Boutiques is one of the top premium online tailoring service providers in the Delhi, Gurgaon, Noida, Ghaziabad, and Faridabad metropolises. Due to the fact that they have two production houses, one in Delhi and one in Gurgaon, they have their own production house and an experienced tailoring staff under one roof in each of these locations. With the top online stitching services offered by the tailoring team, you may order your dress stitched from the convenience of your home.
A basic fabric may be used to create any article of clothing, and the finished dress or blouse can be delivered to you at your home or office. With the exception of submitting your design to our designers or picking from one of our existing collections, there is no work necessary on your part for any stitching service we provide. We specialise in tailoring for women's tailoring, and we can assist you with anything from wedding padded blouses and lehengas to simple suits and formal skirts or pants, among other things. Please do not hesitate to get in touch with us if you need any further information or details. In this respect, Tailor Boutiques is a fantastic online service provider as well as the top ladies' and women's tailors in Delhi, and they provide a broad variety of services, including adjustments and other services.
Our valuable tailoring services are not provided by any local tailors, but some other online tailors collaborate with locally located tailors to provide their services. Some other online tailors do hire and employ locally situated tailors since they don't have their own workers, manufacturing facility, or in-house tailoring expert team. Because they operate only on an aggregator model, they must engage and employ locally located tailors. If you are considering hiring a local tailor and paying for premium tailoring, it is preferable to go to any nearby local market and look for a tailor, pay a small fee for a tailoring service that is locally situated near you, and have your garment sewn.
Location – Delhi, Gurgaon, Noida, Greater Noida, Ghaziabad, and Faridabad.
1 – You can place an order with us as we have our own production houses, which are located in Delhi and Gurgaon, and we have our own tailor expert, master tailor, karigar, fashion designer, and delivery team. You can also go with other online tailors if they have their own production house and team to stitch customers' expensive clothes.
2 – Don't go with any other website or online tailor who has collaborated or partnered with locally located tailors to serve their customers because the customer's fabric is very expensive and very important. Everybody has some emotional and mental attachment to their fabrics and clothes. We strongly recommend it to all of the customers living in Delhi, Gurgaon, Noida, Greater Noida, Ghaziabad, and Faridabad.
3 – Please do not use any locally located tailor without seeing their quality of work or any online tailor who has collaborated or partnered with any locally located tailor.
4 – If you still want to go with locally located tailors for your stitching needs, we strongly recommend that you give them a chance to test their quality, fitting, finishing of the stitching, and experience with a simple piece of fabric or a garment.
Hopefully, the information offered in this post has assisted you in developing a better understanding of the top 10 best tailors for women in Delhi-NCR. Following the outbreak, consumer behaviour has shifted, with an increased number of individuals going to the internet to seek one-of-a-kind gowns and other items to purchase as a result of the pandemic. You should visit Tailor Boutiques if you live in Delhi or the National Capital Region and would like to have an outfit ready while sitting at your desk at work or in the comfort of your own home. If you live in Delhi or the National Capital Region and would like to have an outfit ready while sitting at your desk at work or in the comfort of your own home, you should visit Tailor Boutiques. Using their smartphones and computers, they may access a vast assortment of apparel and accessories, as well as fashionable outfits in the latest trends, among other things. Tailor Boutiques are a good choice for anyone who wishes to have an outfit produced while still working from their desk at the workplace, mostly because of the convenience they provide. Among the many services provided by this online tailor are tailoring for all sorts of clothing as well as a number of additional services.
Why to Choose Tailor Near Me for kids
what our clients have to say - Reviews
I found Tailor Boutiques tailoring much better than the other tailoring shop near me or my location. As harshit there always shares his expertise to help me make an informed decision regarding the stitching of my suits and blouses and further designing. I recommend Tailor Boutiques to anyone in Delhi.
Remarkable service from such kind-hearted and also considerate delicates, unlike the Tailor in Delhi. Licensed dealerships charge us like anything. Top and cost-effective, high-quality tailoring company Can easily certainly not say thanks to or suggest them sufficient, excellent tailoring solution.
If you're nourished up along with chancy suit maker and stitching solution companies cutting you off, check out Tailor Boutiques in Delhi to offer it a shot. I created a reservation for my tailoring needs using their web site and merely scheduled my appointment at every convenient time.
Tailor Boutiques is simply the ideal Tailoring in Delhi. The staff declares, kind, and carries out everything achievable to deliver a memorable adventure. I have been receiving my clothing there for the previous four years. They have regularly served me with satisfactory and also first-class solutions. Thanks, Tailor Boutiques!
I took my outfits to Tailor Boutiques for some frontal end job to be performed, and also tailoring was done in the three days. The session was made via the website, and their workers were beneficial. The cost and services provided basically what you would certainly expect. I would suggest the Tailor Boutiques to engage.
I had a fantastic experience with Tailor Boutiques. My Clothes tailor friend "Harshit" was efficient and kept me updated regarding whatever was happening with my clothing. Harshit helped me with timely distribution and also a terrific tailoring service experience.
Frequently Asked Questions