Sarees And Lehengas For Indian Weddings In The Latest Styles
Indian weddings often span over several days, and the most popular wedding ceremonies are the Mehndi (henna) ceremony followed by the Sangeet (music) party. Expect to see colorful fabric dresses, elaborate jewelry, and traditional attire that might include a lehenga or saree. Indian weddings are known for their grandeur and celebration–whether you choose to attend as a guest or family member. The wedding ceremony is the most important day of your life, so it's only natural that you want everything to be perfect! When choosing a dress, choosing a suitable tailor for clothes and the bridal Lehenga for you is your top priority. We've got all the information you need on how to plan an unforgettable dress for any event. Some of the newest sarees and lehengas that can be seen at Indian weddings are listed here.
Lehenga –
Lehenga and choli is a long skirt that falls to the ankles. It is often worn with a brightly colored choli top and adorned with gold or silver embroidery. Traditional Western attire is typically worn starting at the hips and going to the ankles. It is often worn at Indian weddings as well as other formal occasions. The lehengas are usually made of silk, cotton, or polyester fabric. Lehengas can be plain in color, but they also come in red, green, blue, etc. They have been used for centuries by women from all over India. After independence, this traditional dress became popular among young girls who wanted to look fashionable. Today, you will find many fashion designers creating their versions of these beautiful dresses that make them stand out amongst others.
Pannelled Lehenga –
The panelled Lehenga is a traditional Indian dress with a specific style and purpose. The panelled Lehenga has different styles that accommodate different occasions and needs. Some of the most popular styles of this outfit are traditional. They have been worn for many years, but they still remain in fashion today. These outfits can be made from cotton or silk fabric. It's important to choose the right material as it will make your lehenga look more beautiful.
These dresses can be worn at various events and occasions, including weddings, parties, and other ceremonies. They can also be altered to suit one's mood or personality.
Fishtail Lehenga –
The moment has come to take a step back and appreciate the features that make you stand out as a distinct person after years of conforming to social expectations and fashion fads. To inspire you to reconsider your fall wardrobe, we've put together a video lesson showcasing a fishtail lehenga.
Our favorite stars and influencers have been donning this trend on Instagram, and we feel it is the perfect item to add to your wardrobe if you want something new from your typical jeans and tees combination.
Printed lehengas –
Printed lehengas are a perfect option for weddings. The printing can be done on the Lehenga and the dupatta, and it is an excellent way to show off your personality and culture. There are many different styles of prints available, including tribal designs, animal prints, floral patterns, and more—a few places to order from, including Tailorboutiques.com.
Sharara Cut Lehenga –
The traditional sharara, a flowing garment for Indian women, has been a popular dress option for centuries. Recently, the sharara style has been translated as a skirt without a top and worn as a long fitted skirt paired with anything from a backless or strapless bra to a light sleeveless blouse. The modern idea of "Sharara Cut Lehenga" is an ornate skirt that includes intricate designs at the waistline and hemline.
Jacket Style Lehenga –
Jacket style lehenga is a traditional outfit made of three pieces: the top, the skirt, and the jacket. The jacket is usually chiffon or net with embroidered work on it. The jacket can be made with a detachable middle part. At the end of the rest of the garment, the hem can be embellished with a square motif. A Jacket Style Lehenga is a dress with a fitted top and a flared skirt. They are an excellent alternative for women who want to downplay their hips or show off their waistlines while maintaining the traditional Indian look. This lehenga style is perfect for more formal events like weddings, parties, and receptions.
The jacket style lehenga offers an alternative to more traditional styles of the Indian dress that emphasize the hips and chest lines.
Broad Flared Lehenga –
For the past few years, Broad flared lehengas have been a new trend emerging in the fashion world. The skirts flare dramatically just below the knees and narrower as they reach the ankles. This trend has gained much popularity in India, seen as a traditional clothing style. It can be challenging to find a garment to fit every body type, but if you have longer legs and a big bust, this style may be perfect for you!
Saree –
Exquisite Indian sarees can further enhance female beauty. Many different regions worldwide have their distinctive cultural heritage, and the way women dress up also differs. Here are the most frequent types of Indian sarees that you must be aware of.
Lehanga Saree Style –
Lehanga Saree Style, which originated in the North-Eastern region of India, is a traditional unique occasion saree. Women typically wear these saris at weddings and other celebrations and range in color from bright to dark reds and browns. Lehanga style saris can be recognized by their unique horizontal patterning across the fabric, creating a flowing design.
Mermaid Style saree –
Mermaid-style sarees are a hit with celebrities and Indian fashionistas. Although these types of sarees have been present for centuries, the recent resurgence has been due to the growing popularity of mermaid-themed books and films such as the "Little Mermaid." The garment first became popular in India after Kareena Kapoor wore a mermaid-style dress.
Marathi Style Saree –
Marathi style sari is a beautiful type of sari that comes in various colors and patterns. It is a traditional style that originated in India and became popularized worldwide. They are worn primarily by women and girls in southern and western parts of the country. The vibrant yet straightforward designs make this style stand out from other types of saris.
Gujrati Style Saree –
The perfect example of a Gujrati style saree, and the most traditional way to wear one, is wrapped around the wearer's body in a dhoti or sari fashion. The center of the saree is draped over the left shoulder and loops down to the ground on the right side, where it is held in place by a piece of clothing such as a blouse or petticoat. These wrap-style sarees are usually worn with matching accessories like jewelry, bangles, necklaces, etc.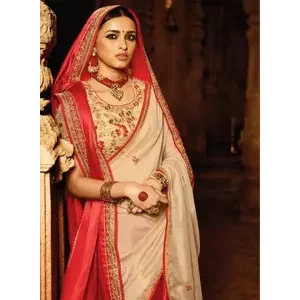 Double Pallu Style Saree –
The Double Pallu style of a sari is a perfect example of Indian saree fashion. The pallu, the part of the sari draped over the shoulder, is traditionally worn in a single row, but two rows will be worn in a double pallu style. Brides and women from India often favor this style. It has been noted that this style is much more prevalent in rural communities. The saree can be draped and wrapped around the body in different ways and worn with different blouses. Double pallu style sarees come in a variety of colors and patterns. The palla is the end of the material that is draped over the shoulder. While some women wear their Pallas long, many prefer to wear shorter ones tucked into the sari's waist.
The Classic Indian Style Saree –
The Indian-style saree is a beautiful garment that is a symbol of Hindi culture and femininity. In Indian culture, the sari is worn by women from all social backgrounds and religions. It can be draped in many ways to match the occasion or activity of the wearer. The styles are derived from ancient customs with roots in Hinduism and Buddhism. It is draped around the waist and falls to the feet, and the saree is usually made of cotton, silk, or polyester. Each state in India has its style of wearing a saree which is then categorized into four main styles: Nivi style, Punjabi style, Gujarati style, and Odisha style.
In conclusion, Indian weddings have been a part of many cultures for centuries, with each family having their own traditions. However, in modern times, it seems that most Indian weddings are increasingly Westernized with a focus on a lavish reception and less on the wedding ceremony itself. It has all the latest styles and colours available to make sure that it matches the environment of the wedding. It also provides tips to make sure that it matches the person's personality, as well as keeping in mind their cultural background.
Lehengas tailor for Indian Weddings in the latest styles can be found at our website – Tailorboutiques.com
Why to Choose Tailor Near Me for kids
what our clients have to say - Reviews
I found Tailor Boutiques tailoring much better than the other tailoring shop near me or my location. As harshit there always shares his expertise to help me make an informed decision regarding the stitching of my suits and blouses and further designing. I recommend Tailor Boutiques to anyone in Delhi.
Remarkable service from such kind-hearted and also considerate delicates, unlike the Tailor in Delhi. Licensed dealerships charge us like anything. Top and cost-effective, high-quality tailoring company Can easily certainly not say thanks to or suggest them sufficient, excellent tailoring solution.
If you're nourished up along with chancy suit maker and stitching solution companies cutting you off, check out Tailor Boutiques in Delhi to offer it a shot. I created a reservation for my tailoring needs using their web site and merely scheduled my appointment at every convenient time.
Tailor Boutiques is simply the ideal Tailoring in Delhi. The staff declares, kind, and carries out everything achievable to deliver a memorable adventure. I have been receiving my clothing there for the previous four years. They have regularly served me with satisfactory and also first-class solutions. Thanks, Tailor Boutiques!
I took my outfits to Tailor Boutiques for some frontal end job to be performed, and also tailoring was done in the three days. The session was made via the website, and their workers were beneficial. The cost and services provided basically what you would certainly expect. I would suggest the Tailor Boutiques to engage.
I had a fantastic experience with Tailor Boutiques. My Clothes tailor friend "Harshit" was efficient and kept me updated regarding whatever was happening with my clothing. Harshit helped me with timely distribution and also a terrific tailoring service experience.
Frequently Asked Questions